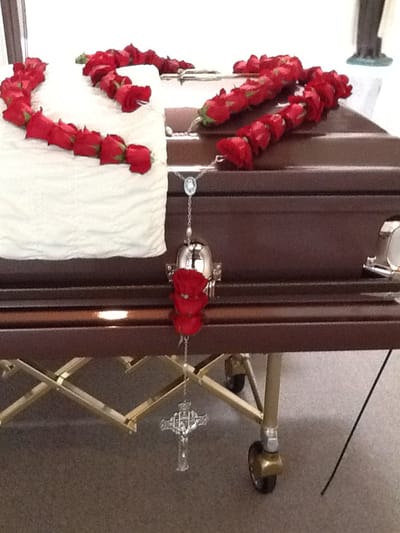 We specialize in creating one type of memorial tribute-- a very beautiful and distinctive item most meaningful to Catholics, and those who devoutly meditate upon the life, death, and resurrection of Jesus Christ through recitation of the Rosary.

Instantly recognizable for the prayer it represents, "The Original Fresh Rosary" is a welcome and comforting sight for loved ones gathered to give a holy send-off.

Fresh Rosaries, carefully and prayerfully made in the US, are shipped via FedEx to the lower 48 States for your loved one's Mass of Christian Burial, rosary service, funeral, memorial service, or celebration of life.

Each rosary contains 50 roses, representing the 50 Hail Mary prayers in the 5 decades of 10 prayers each.


50 large, fresh, red roses in a gloriously huge rosary, big enough to place on a full size casket. If laid open end-to-end, the rosary would be close to 10 feet long. These rosaries are stunning, and we've been told how moved people are at the sight of them. Following the funeral, some place the rosary in the casket to bury with their loved one, and some bring the rosary home and display it.
Your Fresh Rosary will be packaged and shipped via FedEx to your location, or to the funeral home you designate. When ordering, please specify the name of the recipient (or deceased person), and the name of the giver. Do let us know the date of service. Include the physical address of the funeral home. FedEx does not deliver to post office boxes.
Price Includes shipping in the lower 48 states. We do our best to ship in a timely manner, but next day service is not always possible, due to shipping deadlines.
Learn more about praying the Rosary by clicking the button in bar below.