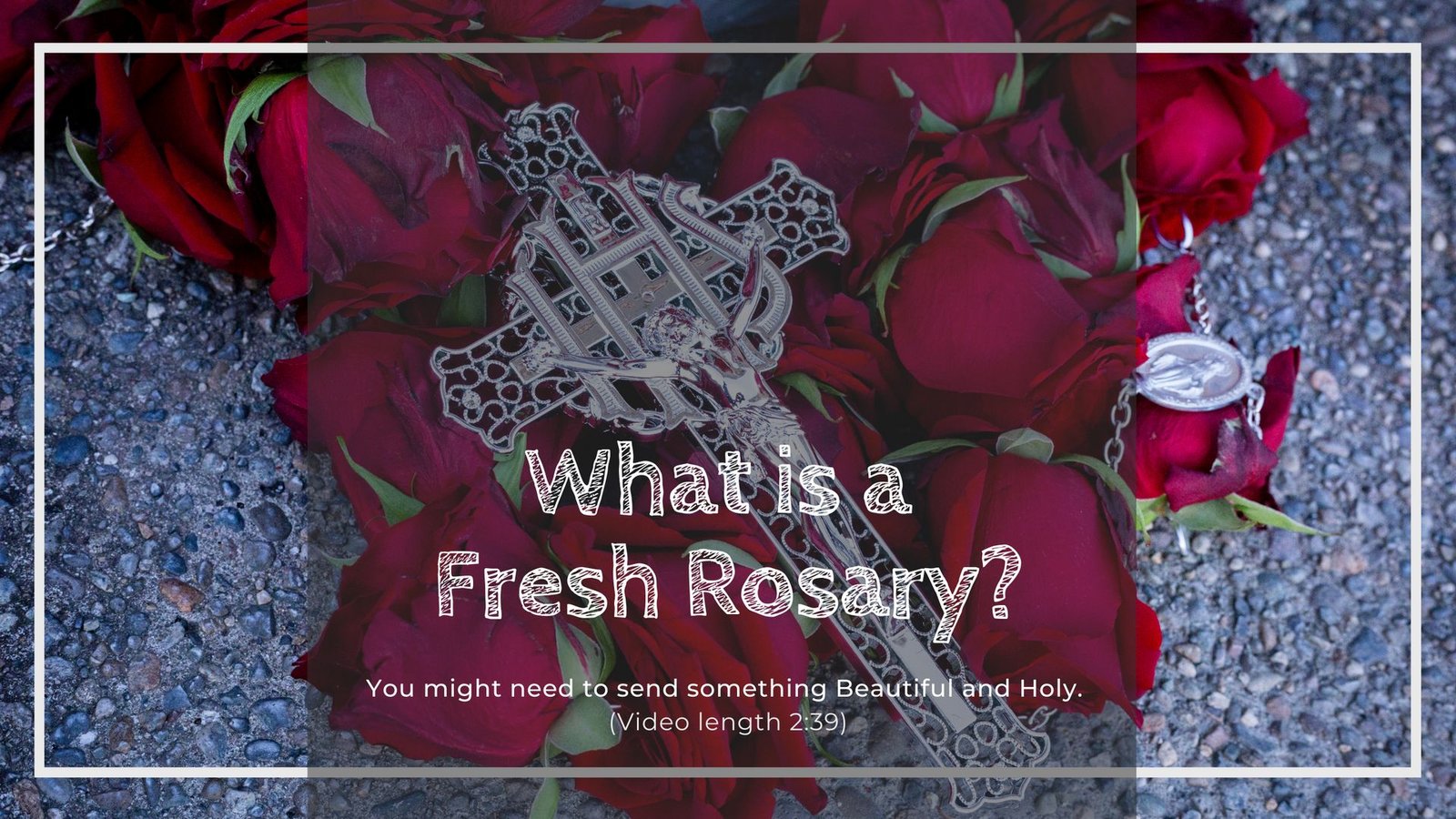 A Rosary for Every Soul.  That's our Mission.
FREE SHIPPING ON ALL ORDERS
We're the Catholic online florist that makes only one thing:  Rosaries from real, living roses. Because roses are beautiful, Heaven is real, and prayer is powerful.

While we're making your life-sized Fresh Rosary, we pray specifically for you and for those who will receive it.
How it works:
As soon as you know you need a Fresh Rosary, reach out to us!  We make these to order, and our turn-around is quick.

Choose your size, and color preference, and tell us when you want your rosary to arrive; then finalize your order and we'll get to work!
We've become experts at packing these beauties for shipping.  Put the box into the fridge as soon as it arrives, and let those gorgeous roses cool off from their journey.
 Order today and join our growing group of deeply satisfied customers.

"When you say your Rosary, the angels rejoice, the Blessed Trinity delights in it, my Son finds joy in it too, and I myself am happier than you can possibly guess. After the Holy Sacrifice of the Mass, there is nothing in the Church that I love as much as the Rosary." - Our Lady to Blessed Alan de la Roche
Making a group gift of a Fresh Rosary?
There's strength in numbers.  Connect with friends and relatives via Venmo, Square Cash or Google Pay, or use PayPal Money Pools.
"Not only is it stunningly eye catching, but it is the perfect tribute for a devout Roman Catholic. It has changed the way I purchase flowers- it's only fresh rosaries for all my needs!"
~Kellie F., Kent, WA
"It was absolutely the centerpiece of the service. I know my mom was looking down that day and loving that rosary! I now have it freeze-dried and in a special place in my home as a keepsake."
~Dawn V., Gig Harbor, WA
"It was just so beautiful on the casket. Everyone absolutely loved it. Reasonable price as well, thank you very much!"
~Frances G., Sumner, WA
"It was truly a blessing to find Fresh Rosary. I wanted a real flower rosary for my niece that had passed away unexpectedly. The rosary was packed with such care and was as fresh and beautiful as if her business was just down the street. (continued)

...If you are looking for a rosary made out of fresh flowers, look no further! I am planning to order others for my daughters' weddings. They have my business for a life time."
~Kelley C., Coppell, TX
This button will open or download a PDF depending upon your settings. It is brief, thorough, and helpful.